Dekmantel Festival 2019 Liveblog
Welcome to our liveblog! A full-blown feed of our entire event, updated throughout the festival. A chance for you to keep track of what's happening at the moment, with photos, videos, background info and live updates from Gabriel Szatan (GS) and Chal Ravens (CR), our journalists in the field. For more practical information and timetables, check out www.dekmantelfestival.com or the Dekmantel Festival app. For any assistance, email us at [email protected]. For now, stay tuned!

Friday 2 August - 02:45
Some gasped when we announced heavy goliaths Sunn O))) for Dekmantel
Today, some ran for cover from the noise. But all we could do was marvel at this one-of-a-kind force of nature. Rest your ears and we'll see you tomorrow for Day 3 of Dekmantel Festival 2019.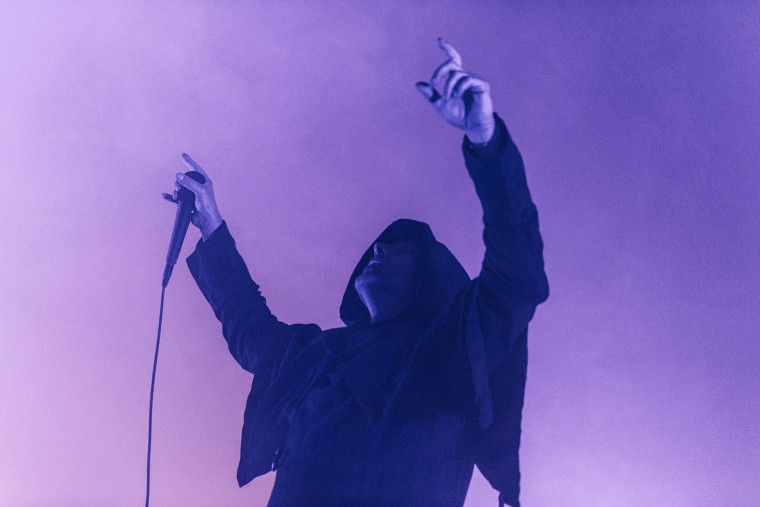 Friday 2 August - 02:14
One of the final acts of our Thursday — De Ambassade on home soil
"Wat voel je nou?" Dutch outfit De Ambassade is treating a packed Tolhuistuin with Dutch lyrics, oddball gloomy synth/wave and beautifully blissed-out analog jaunts making their music encapsulating and unique. Although the crowd is international, the room is enjoying the Dutch synth pop making a tired San Proper stay dancing albeit an early set on Friday. "Waar ga je heen? Nergens naar toe."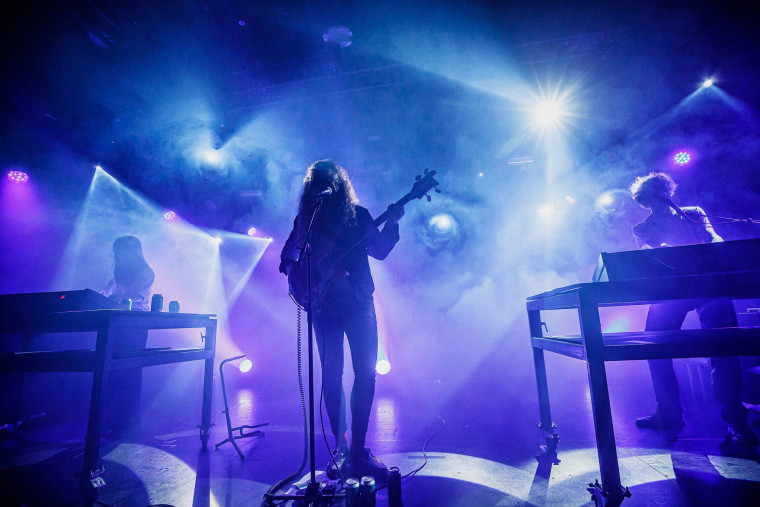 Friday 2 August - 01:56
Extreme noise terror with Powell
CR: Half prank, half Parmegiani: Powell is making the most of his prime slot at Shelter - 1am on the first big night of the weekend - to expose us eager children to some extreme noise terror. The front few rows are a soup of flying limbs, trying and failing to catch a beat as the Diagonal boss drags us down some dark and scary roads, whipping his patch cables like a lasso.
After half an hour of turning brains to scrambled egg with stop-start electro-skree, he treats us to something danceable: the dessicated corpse of a D&B tune hung off a shred of Reese bass, and one of his vintage Suicide-influenced tracks.
Then, minor disaster: the machines betray him, leaving us in silence. He jumpstarts the gear and puts on an elaborate show of pulling out every patch cable and starting from scratch, until we get what seems to be a hellish inversion of the bubblegum classic 'Hey Mickey'. Some are absorbed. Some are aghast. And the more people that leave, the more I love it.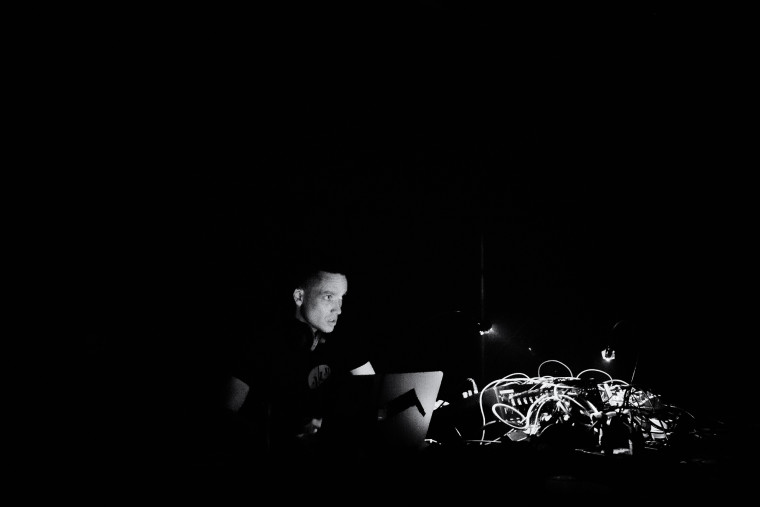 Friday 2 August - 01:36
Yussef Dayes is dazzling the Tolhuistuin
London's jazz scene has not had it this good for decades, and this man is one of those who sparked a renaissance.
Friday 2 August - 01:24
We're still buzzing from Caterina Barbieri
Flashing lights, hypnotizing compositions. Caterina Barbieri's fresh-of-the-press album Ecstatic Computation has been on repeat at the Dekmantel-office since May, and hearing her 'Pinnacles of You' live at Bimhuis got the audience in awe too. May it be clear: Barbieri's here to stay.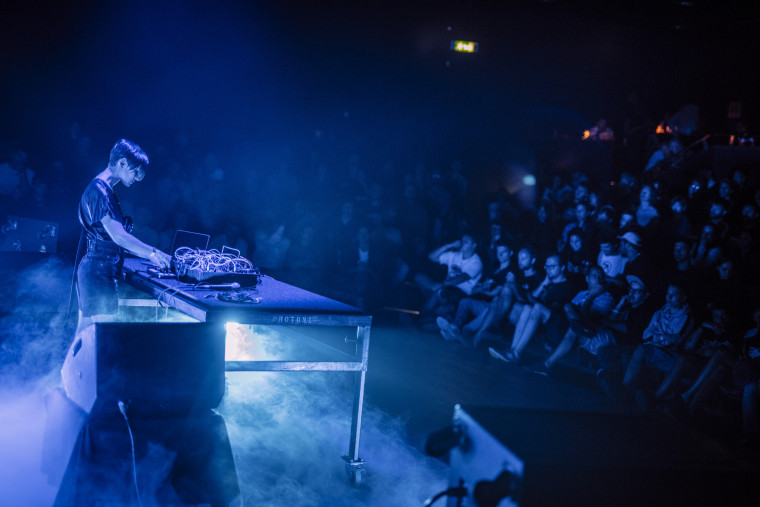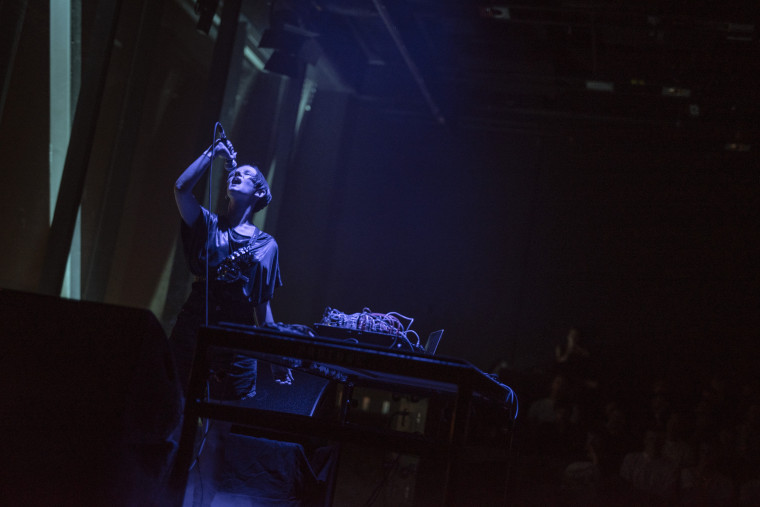 Friday 2 August - 01:05
Caterina Barbieri at Bimhuis
One of the most celebrated young producers around, Caterina Barbeiri is taking Bimhuis to a place of close-listening transcendence.
Friday 2 August - 00:54
Nu-gen jazz-funk splendour with Yussef Dayes
CR: Yussef Dayes is a leading light of the Nu London Jazz scene, also known as the percussionist half of Yussef Kamaal, and his talent towers over us - currently in a literal way, thanks to his massive drum riser. Flanked by keys and bass, Dayes plays his jazz-funk big and chunky, making difficult things look, well, pretty difficult. Kudos to the band too, performing the tricky task of supporting the drummer rather than vice versa.
Friday 2 August - 00:19
One of our highlights already: Deena Abdelwahed's Khonnar performance
Following her insightful talk earlier today, Deena Abdelwahed brought the same detail and depth to her "Khonnar" performance at Shelter later tonight.
Friday 2 August - 00:10
Jah Wobble & Bill Laswell — bass heavy pioneers earlier this evening
Jah Wobble and Bill Laswell together on stage is rarer than shooting stars. The audience at Tolhuistin was treated to two maestros of outer-realm dub and jazz weaving their vision.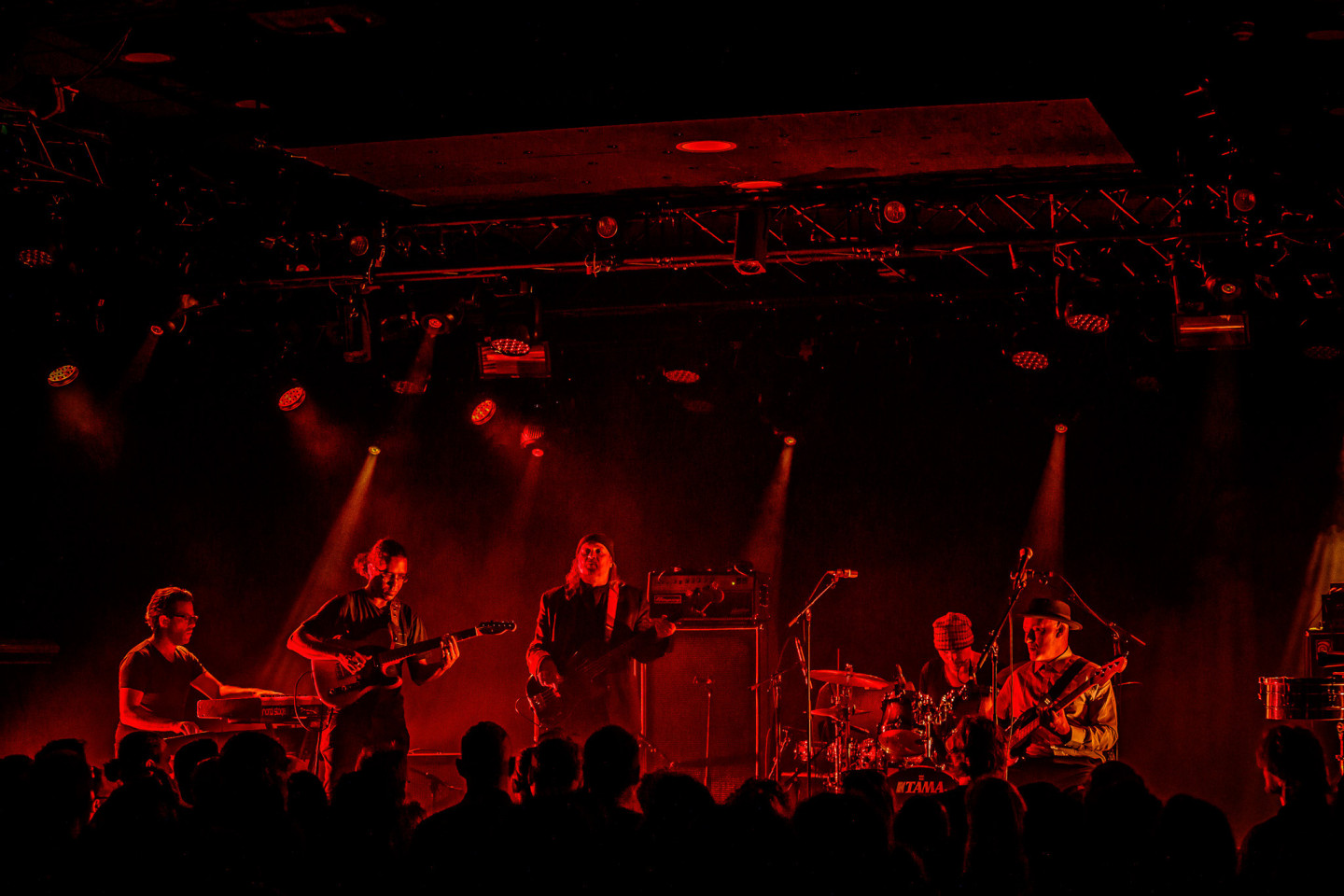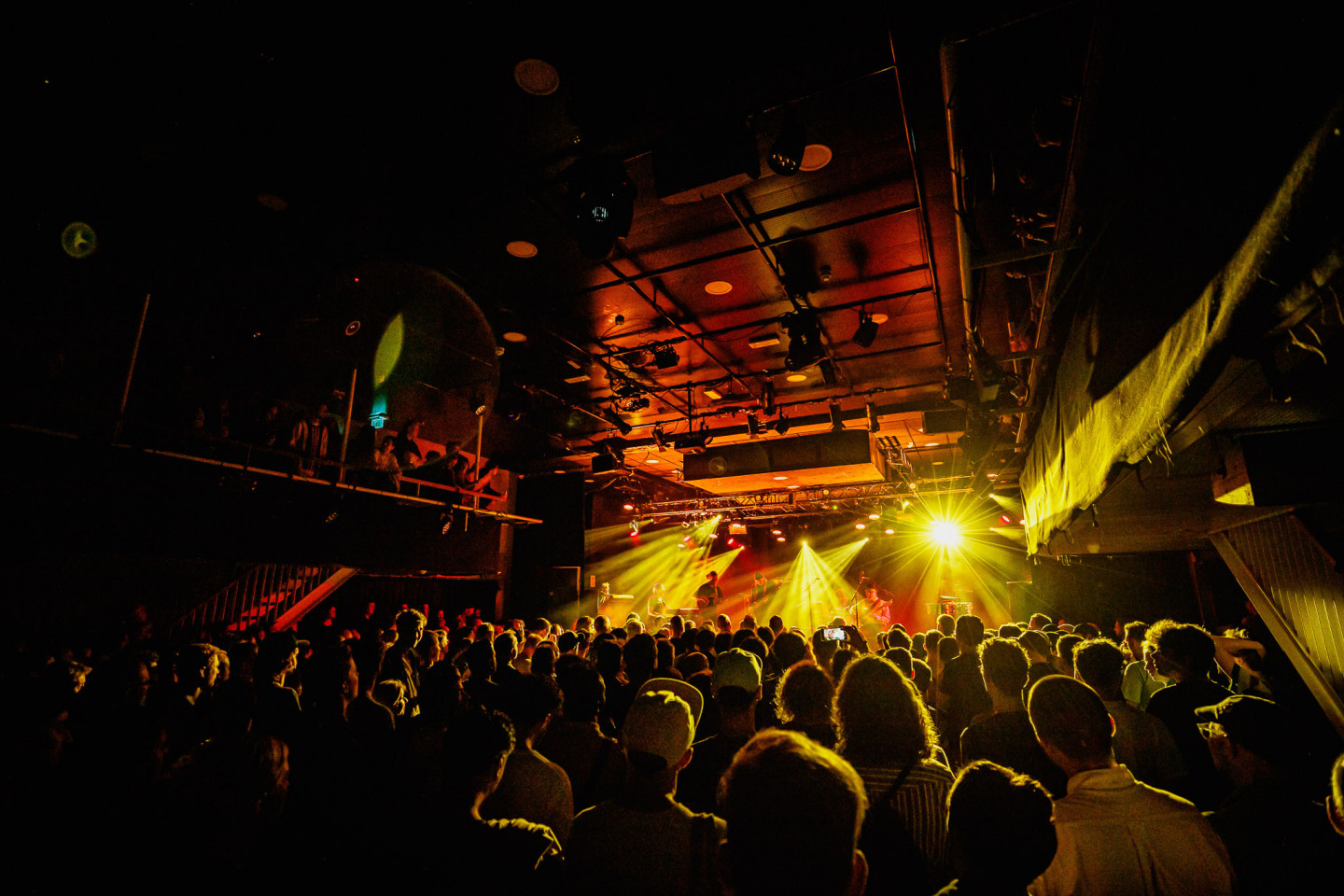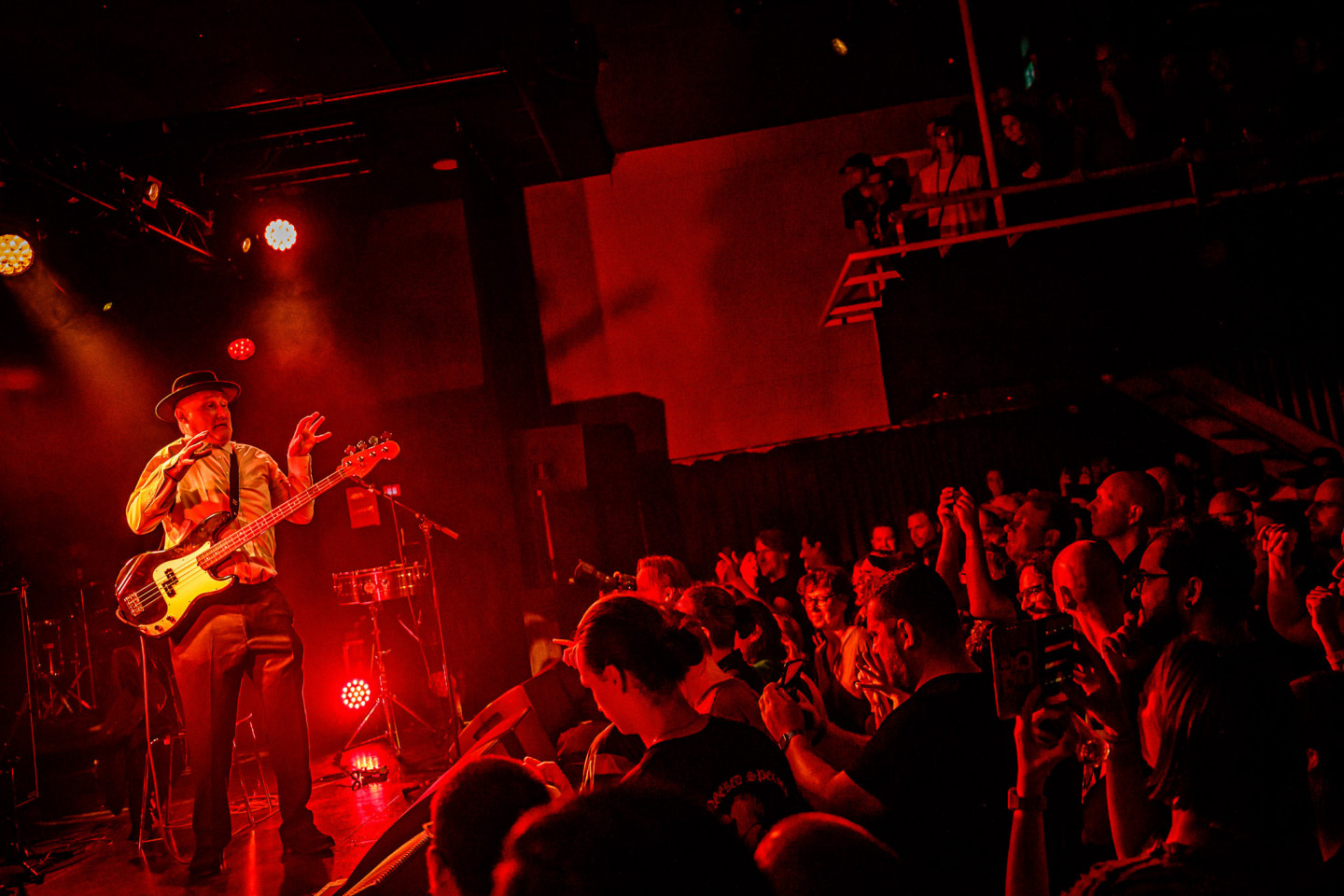 Friday 2 August - 00:08
Sunn-y and Fear
GS: There are caution signs all around Muziekgebouw. Diligent staffers urge boxes of foam earplugs at the doors. And still, somehow, people are watching one of the loudest bands on earth with pinched expressions and fingers jammed into ears. Sunn O))) play at a volume that is so loud it reverberates not just the chest, but the soles of your feet. Heed the warning; be sensible!
Sensible isn't exactly it with Sunn, to be fair. Five men in black cloaks push a DNA-rearranging drones, an unceasing wave of trombone, invocation and sllooooowwwww guitar riffs. Dekmantel's team admit within seconds they are scared. Hard to explain to the layman – but then, the Devil's work was never meant to be an easy sell, was it?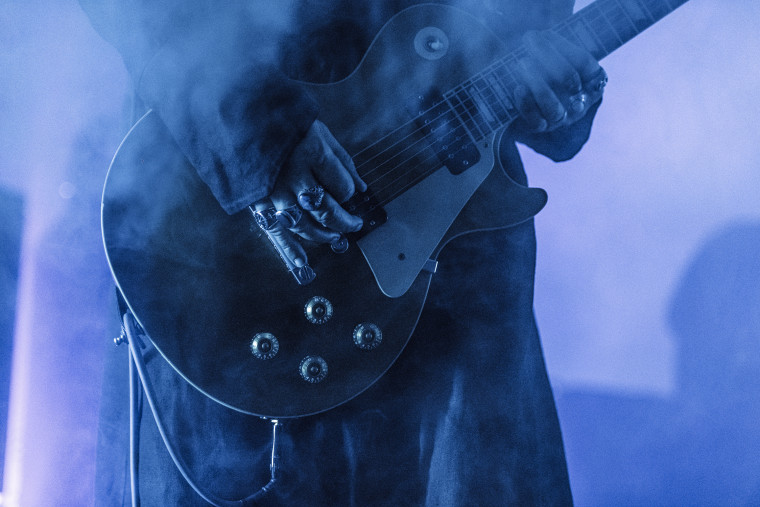 Thursday 1 August - 23:41
The audience is in nervous anticipation of Sunn O)))
Sunn O))) about to release their force at Muziekgebouw aan t IJ – there's nowhere to hide.
Thursday 1 August - 23:34
Grinding electronics by Demdike Stare, starting now
Textured, industrial electronics — head over to Shelter for Demdike Stare the coming hour.
Thursday 1 August - 23:28
Experienced Men In Eclectic Hats drop the bass at Tolhuistuin
CR: There's a fork in the road for every musician who chooses to keep on keeping on, past the first flush of youthful fame. These serious, experienced musicians - typically men, past their follicled prime - all face the same quandary: what shall be my signature hat?
The hat is a window into the musical soul - a fedora, for instance, is sadly the sign of a bad gig. But an embroidered, squarish tea cosy, possibly Moroccan in origin? That's a hat that reads The Wire. That hat likes to jam in 7/8. That hat is a wise elder. A lightweight fisherman's hat in black wool? That hat is a legend of downtown New York. A pork pie-boater hybrid with a squashed crown? That hat is a post-punk genius who turned a generation onto dub reggae.
Yes, bass heroes Bill Laswell and Jah Wobble are diving deep into the low end at Tolhuistuin, channelling the endless ebb and flow of the finest dub with their pulsating band, and revitalising a creative partnership that began in the '90s and continues with new album Realm of Spells.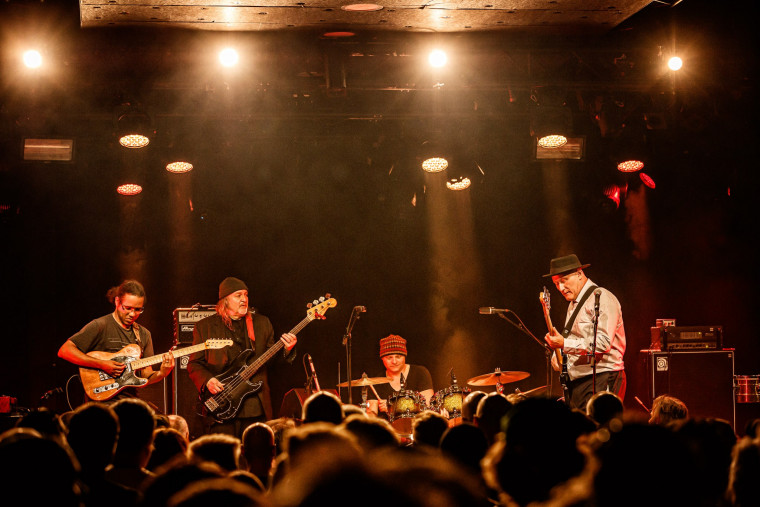 Thursday 1 August - 23:07
Sarah Davachi casting spells at Bimhuis
A sound to get lost in for eternity.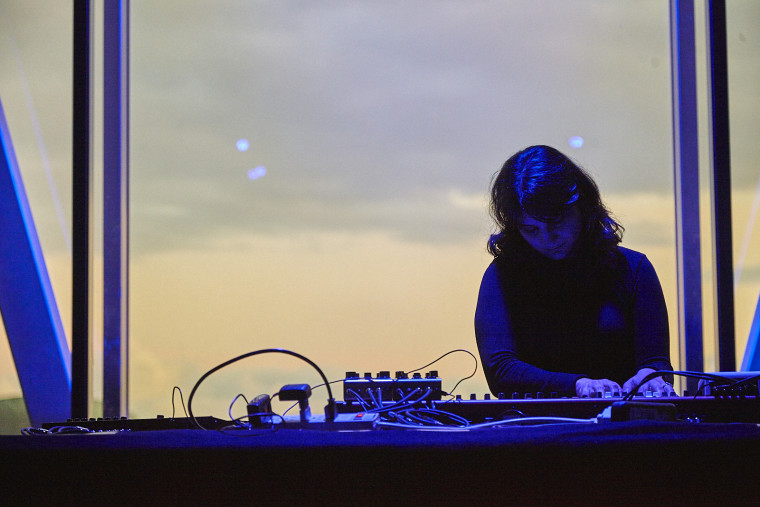 Thursday 1 August - 22:52
Tremble at the feet of the mighty Yves Tumor. We know we did.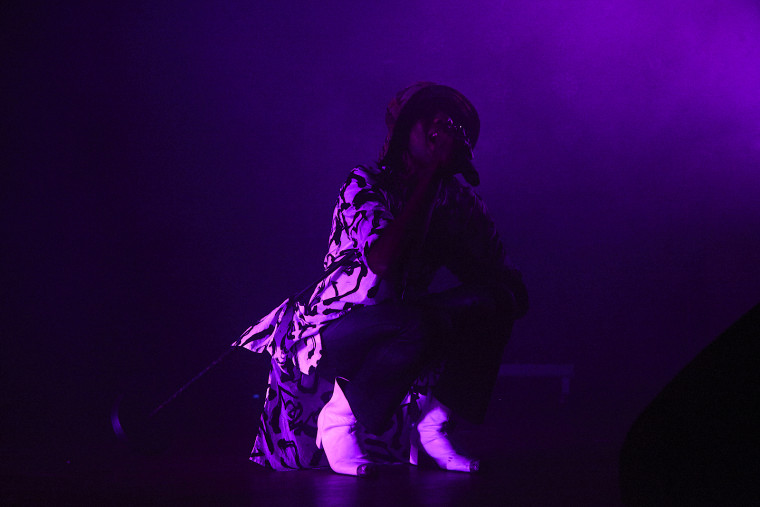 Thursday 1 August - 22:48
Deena Abdelwahed casually invents the future at Shelter
CR: The live blog is a safe space for hyperbole, isn't it? Good, because Deena Abdelwahed is out here inventing the future of dance music. No biggie! Twisting heavy club rhythms with synthesised Arabic instruments and her truly awesome voice - which comes right to the fore in sections of this heavyweight show - the Tunisian artist more than lives up to the promise of her debut album Khonnar.
The concepts underpinning that record are weighty and self-reflexive, deeply political and deserving of serious analysis - but this performance is simply banging. It just doesn't sound like anything else. The packed dancefloor at Shelter hasn't been lured away by other temptations, either - possibly the greatest compliment at a festival? She finishes on a song about the idea of "having a European lover that could set you free". Volunteers are plentiful.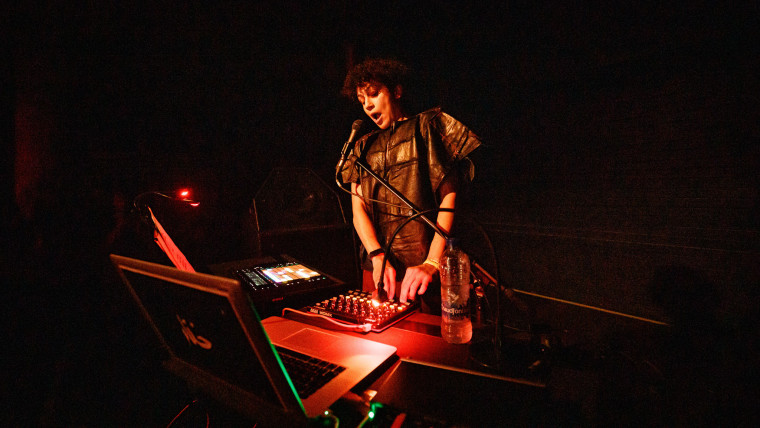 Thursday 1 August - 22:46
Thrilling stuff from one of our Thursday headliners, The Comet Is Coming
There's a jazz riot going on.

Thursday 1 August - 22:41
Red Light Radio X The Rest is Noise just finished
After a full day of DJ sets and interviews, the Red Light Radio X The Rest is Noise program is finished.
Find all streams over here.
Thursday 1 August - 22:01
Peaking Lights are the travelling hypnotists
CR: The enduring dub-disco partnership of Peaking Lights were a logical addition to the Dekmantel label last year, and with a combined height of approximately five metres they fit also right in over here in the nation of giants. Unspooling their cosmic loops for the Tolhuistuin crowd, Aaron and Indra have us swaying like branches, lost in the hypnotising chug of their machines.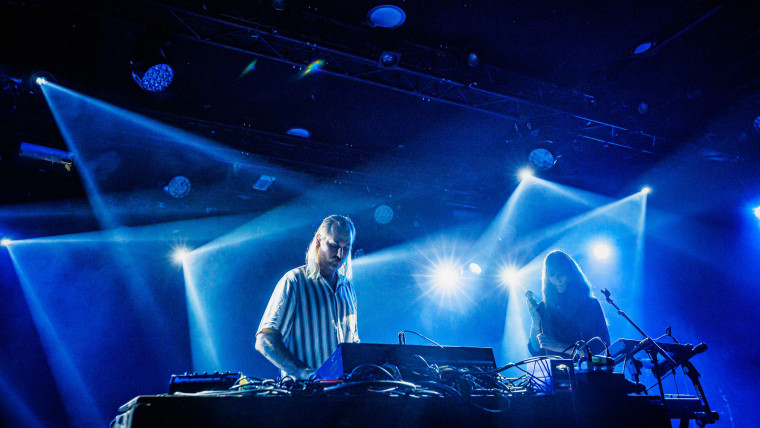 Thursday 1 August - 21:29
Peaking Light's Sea of Sand
Peaking Light is now playing at Tolhuistuin, stream Sea of Sand here.
Thursday 1 August - 21:24
Getting ready for Yves Tumor right now
A lot of us have been looking forward to this one — Yves Tumor, who is about to start at Muziekgebouw in 10 minutes.
Thursday 1 August - 21:17
A worthy replacement to close our Thursday: Andy Stott
Sad as we are to miss Shinichi Atobe, we have enlisted another modern great of dubby after-hours music as a replacement: Andy Stott is our guest of honour this evening.
Sad as we are to miss Shinichi Atobe, we have enlisted another modern great of dubby after-hours music as a replacement: Andy Stott is our guest of honour this evening.Stott's slo-mo techno crept up in the early 2010s, before 2012's single "Numb" left a lot of listeners... well, numb.
The mesh of airy female vocals and bass that felt like tectonic plates shifting was a revelation, catapulting the full LP Luxury Problems to become one of the major crossover records of the year, in a period full of them (John Talabot, Nicolas Jaar and Donato Dozzy's Voices From The Lake all also made up a mighty Class of '12). This enchanting lurch became Stott's signature on later releases, including Resident Advisor's 2014 Album of the Year, Faith In Strangers.
Shelter hosts a full array of shadowplay this evening: Deena Abdelwahed, John T. Gast, Arpanet and Demdike Stare all lay the path for our late breaking final announcement. Stott's fearsome rumbles will be reverberating off the walls of Shelter from 2.30am onward. It is the perfect match of time and place to catch this rare talent in action
Thursday 1 August - 21:13
Wally Badarou on the keys at Tolhuistuin earlier
Talking Heads, Grace Jones, Fela Kuti: Wally Badarou worked with them all during a creative explosion in the early 80s. Flash forward nearly fourty years and the Inspector has still got it.
Thursday 1 August - 20:50
Uploaded from the audience: The Comet is Coming
The Comet is Coming, as captured from the audience. An immersive trip at the Muziekgebouw aan t IJ.
Thursday 1 August - 20:39
Arpanet taking us on a trip in the darkness
The mysterious Gerald Donald, today of Arpanet but also of Drexciya and Dopplereffekt, is taking Shelter on a trip through electro power stations.
Thursday 1 August - 20:17
The Comet is Crushing
GS: We've run the numbers, and today at Muziekgebouw is undoubtedly the heaviest in Dekmantel history. Even the zen sounds of Suzanne Ciani can't offset Yves Tumor, Sunn O))) and... wait, The Comet Is Coming? Yes, believe it or not, Shabaka Hutchings' trio have dialled up the doom. Scores of attendees in Swans shirts glower in approval as the saxophone rips, the drums clatter and keyboardist crab-walks while hitting notes (seriously). Rename Halley's Comet 'Heavy's Comet' in their honour.
Thursday 1 August - 20:13
Melbourne's Jamie Bennett taking over the Red Light Radio stream
The man behind Crown Ruler is streaming until 9. Watch it here.
Thursday 1 August - 19:59
It's cocktail hour with Wally Badarou at Tolhuistuin
CR: Badarou is taking us down memory lane in the retro environs of Tolhuistuin, and is threatening to make us name that Level 42 song. The millennials are quaking.
Thursday 1 August - 19:56
Nadia Struiwigh in Shelter
Nadia Struiwigh's kicking off in Shelter with a masterclass in analogue machinery.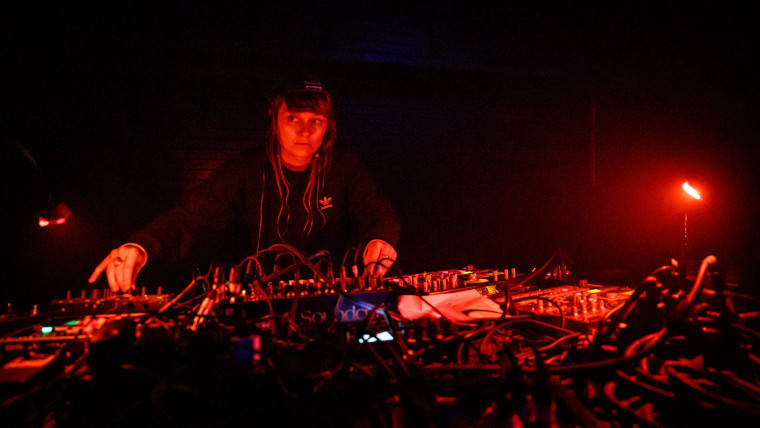 Thursday 1 August - 19:19
Buchla brilliance from the super-legendary Suzanne Ciani
Thursday 1 August - 19:00
Wally Badarou about to fire away at Tolhuistuin
After his appearance at the panel on The Scope Of Electronic Music, Wally Badarou is starting his performance at Tolhuistuin any minute now.
As well as a back catalogue that includes some of the greatest pop songs ever made, Wally Badarou is behind some of the finest new age records of the '80s, when he was exploring the new worlds of sound made possible by incoming synthesiser technology. Born in Paris to parents originally from Benin, the young Waliou had no formal musical training and taught himself how to play piano, quickly establishing his groovy and futuristic style throughout the '80s on records with Grace Jones, Level 42 and Tom Tom Club.
But revisit his 1989 solo album Words of a Mountain and you can hear Badarou working in a different lane, blending airy pads and synthesized strings and vocals with a neoclassical twist. The whole LP was a favourite of Jose Padilla's, with 'The Dachstein Angels' frequently heard in the Ibiza DJ's sets at Cafe del Mar. Just as new age music has come back into fashion, with artists like Oneohtrix Point Never drawing inspiration from '80s releases like Words of a Mountain, so the synths they were made on have become popular with a new generation.
More recently, Badarou has been recreating sounds from his '80s kit as presets for the music software company Arturia. "I'm quite happy with plug-ins nowadays," he admits. "They sound better and better, even though they're prone to obsolescence, like anything in the computer world."
Thursday 1 August - 18:55
The Comet is Coming is about to start in half an hour
Genre-defying band The Comet is Coming is starting in half an hour at Muziekgebouw aan t IJ, one we've been looking forward to a lot. Here's a feature Crack Magazine did with them recently.
Thursday 1 August - 18:50
Dutch newspaper NRC reviewing yesterday's concerts
"Traditionally, Dekmantel Festival connects electronic music's the present and past on the opening night of its five-day festival."

Full article here [Dutch read]

Thursday 1 August - 18:38
Identified Patient is live scoring a 1982 archival film
As part of our project with RE:VIVE, Identified Patient, Laura Agnusdei, Lamellen and Max Abysmal are producing fresh scores for Dutch experimental films from the archives of The Netherlands Institute for Sound and Vision and EYE Filmmuseum.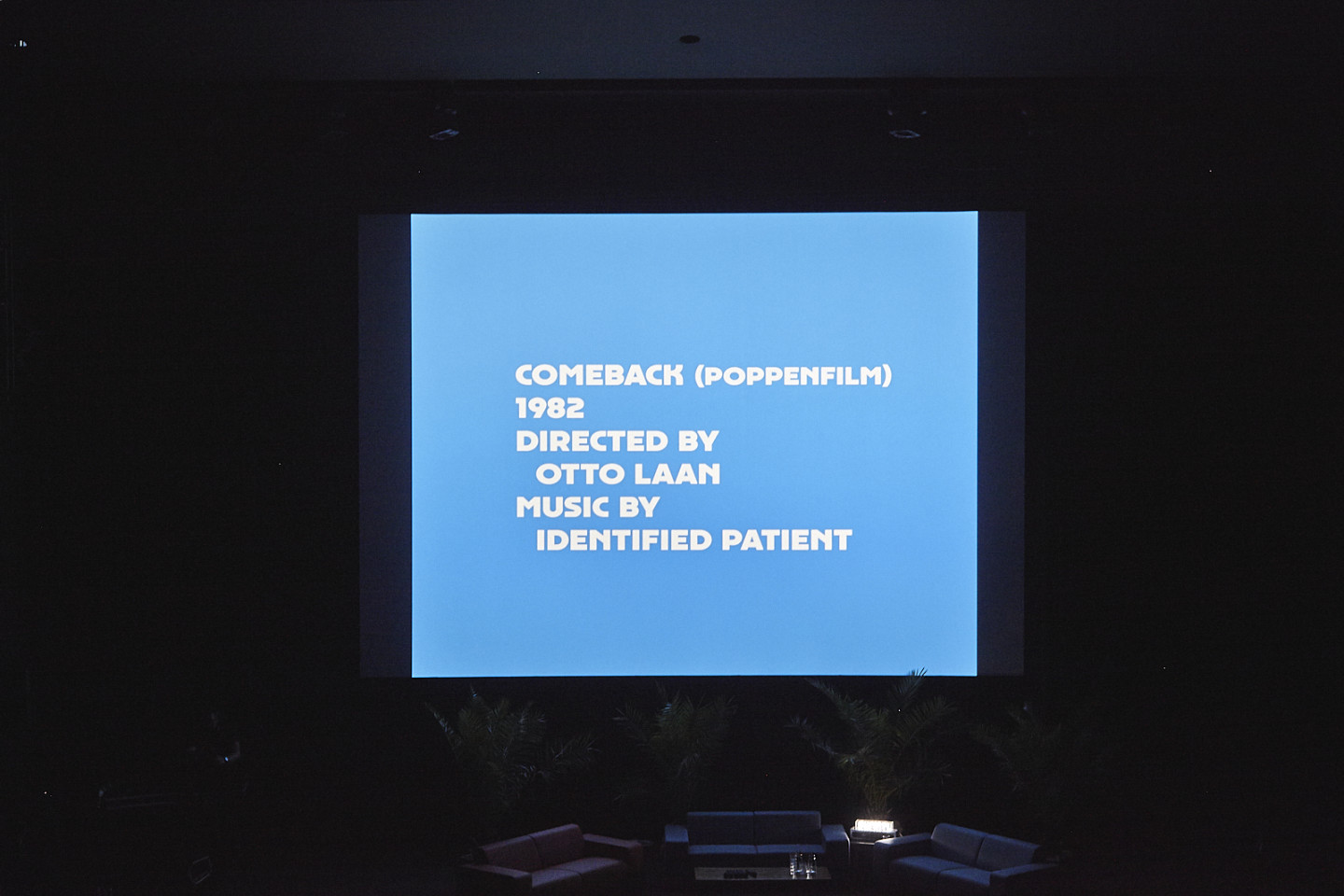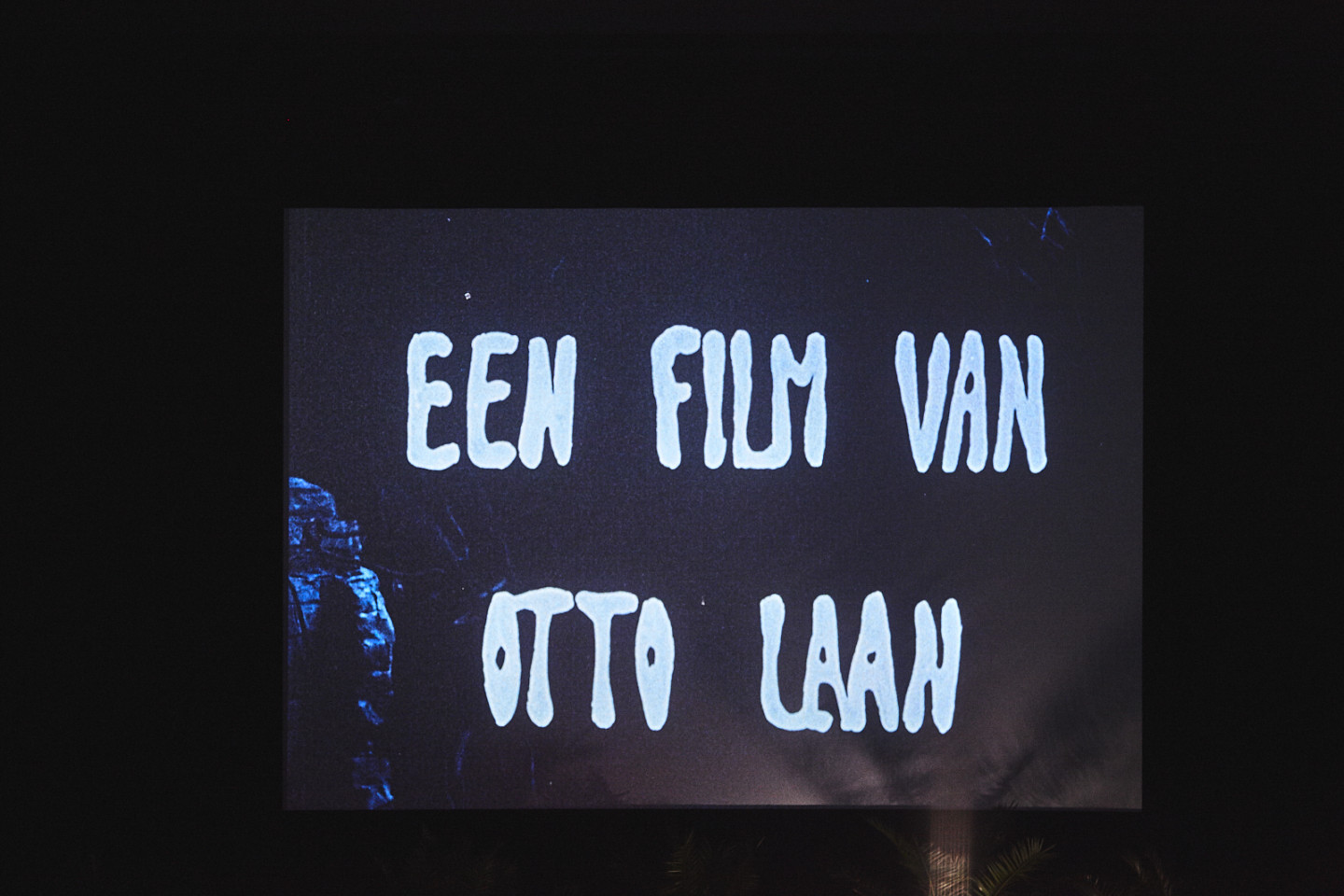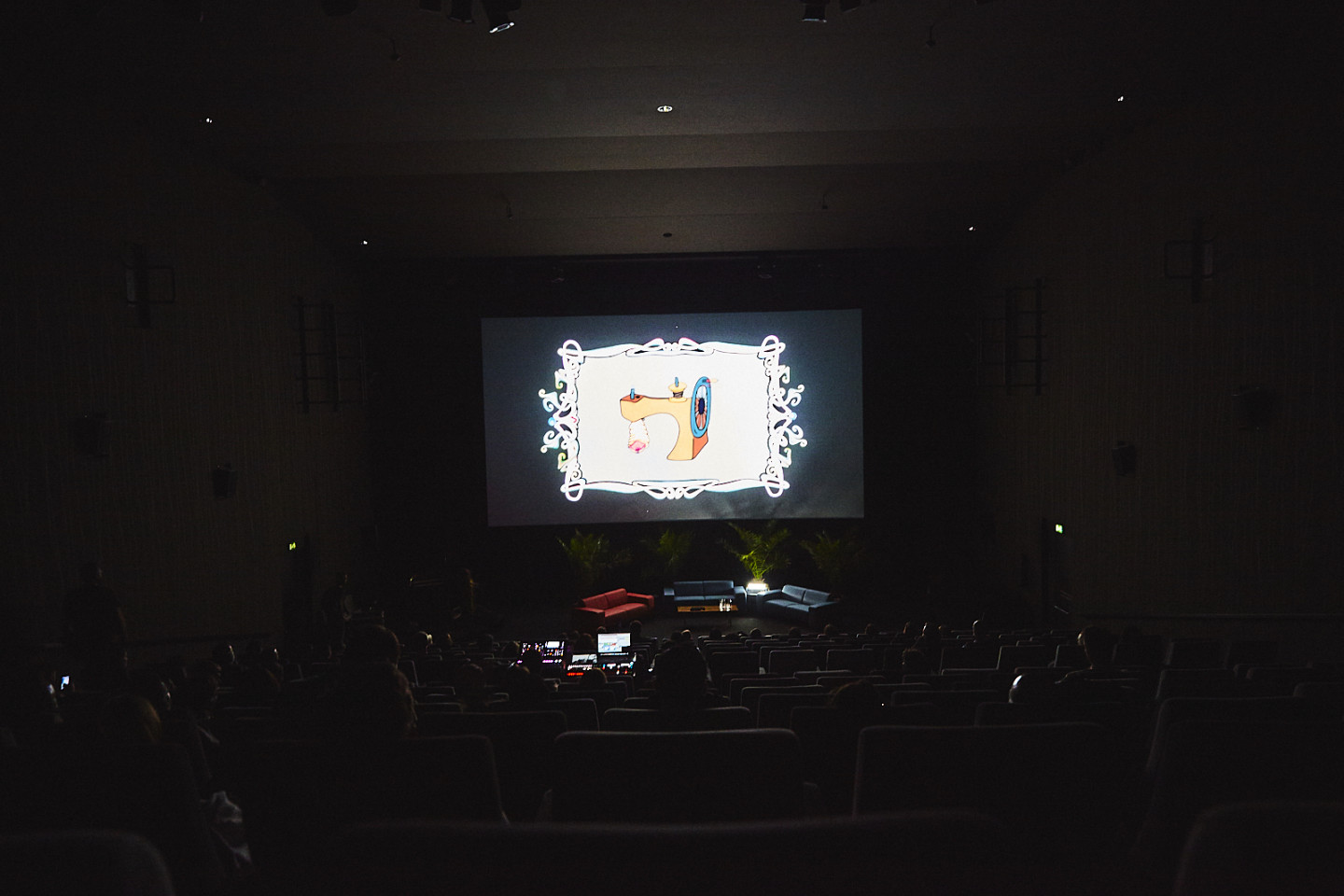 Thursday 1 August - 18:28
In conversation with Sarah Davachi at Muziekgebouw aan t IJ
Thursday 1 August - 18:04
Our homes for the day
Our homes for the day are Muziekgebouw, Shelter, Bimhuis, Tolhuistuin and Eye Filmmuseum – criss-cross across the IJ on a ferry to see as much as possible.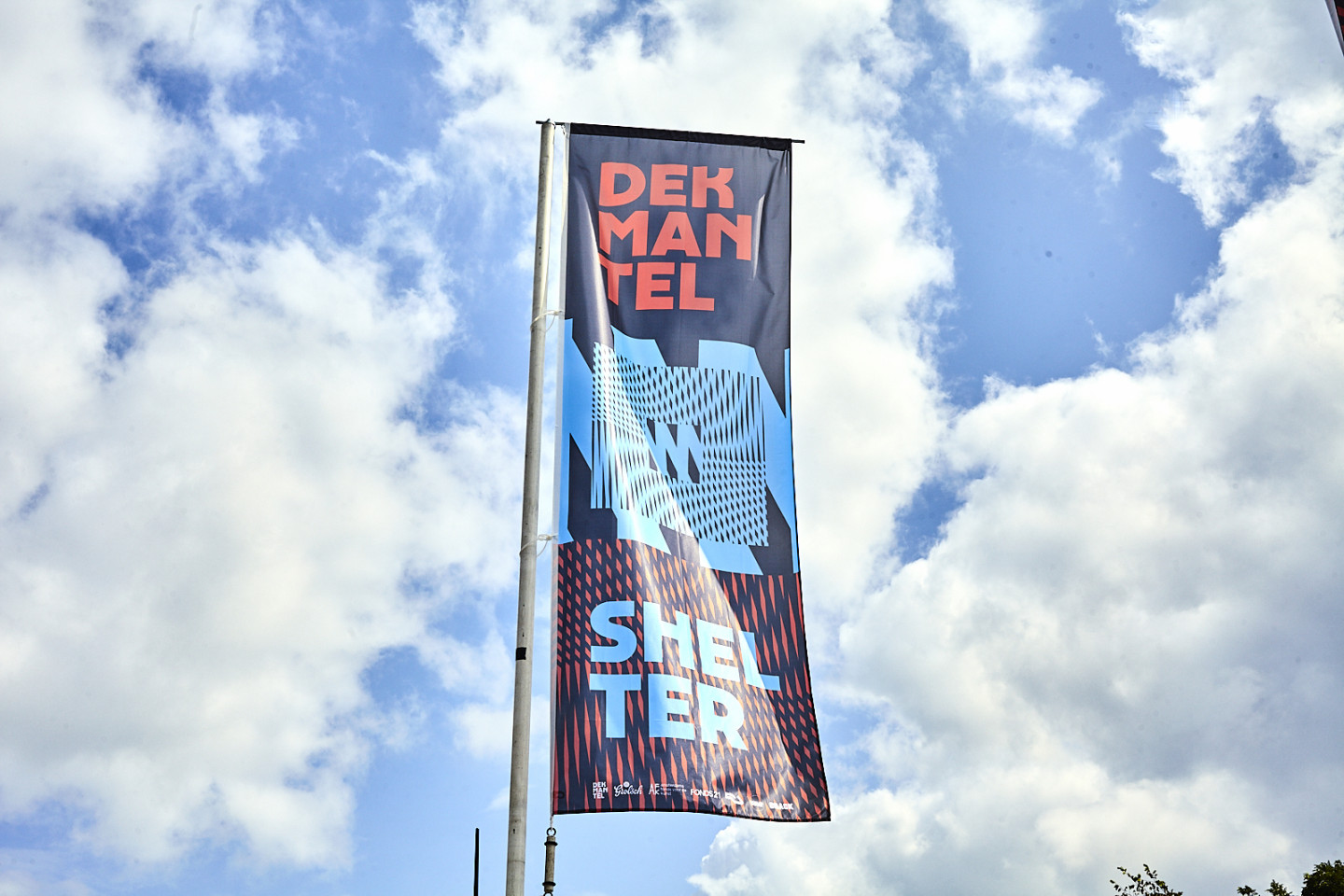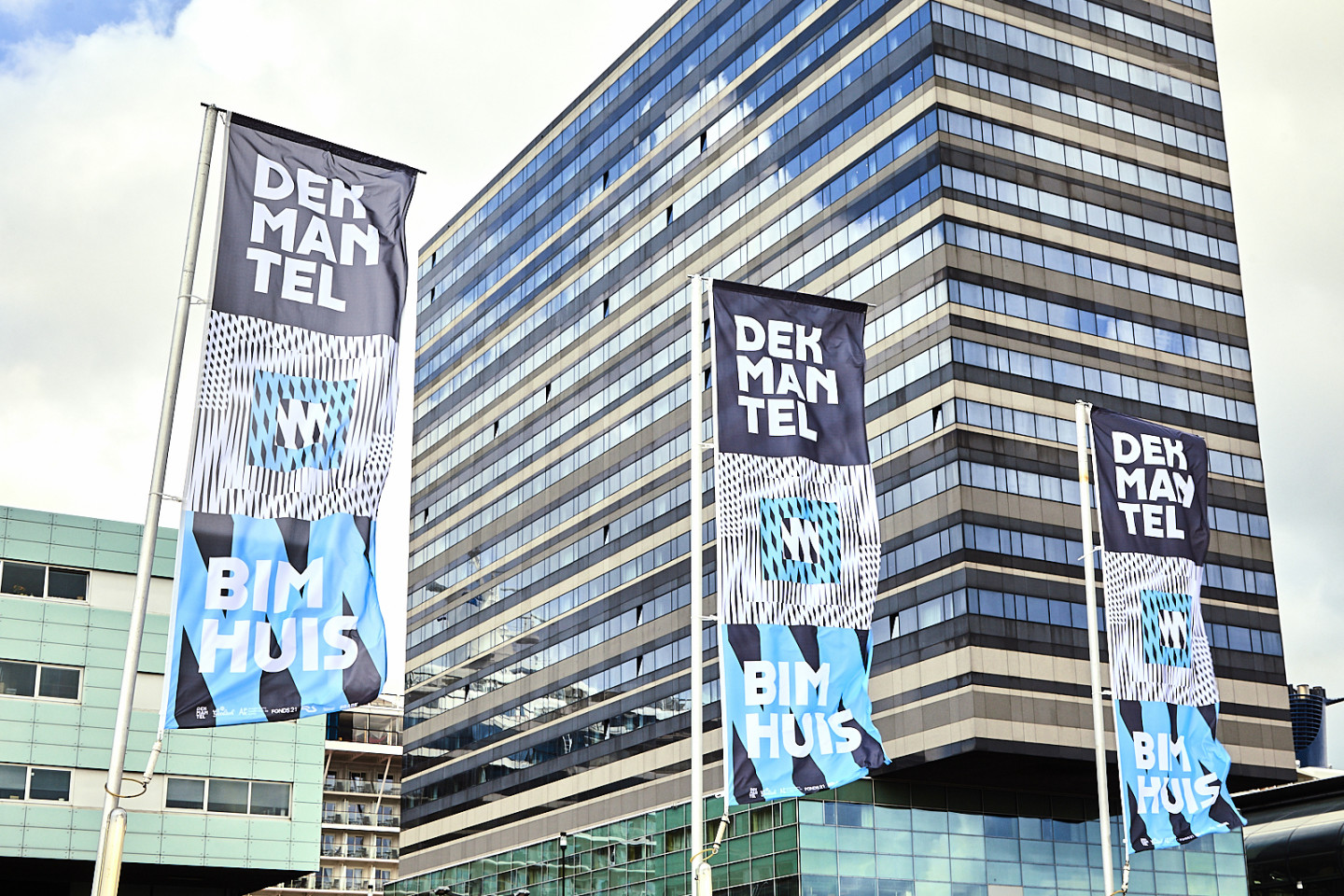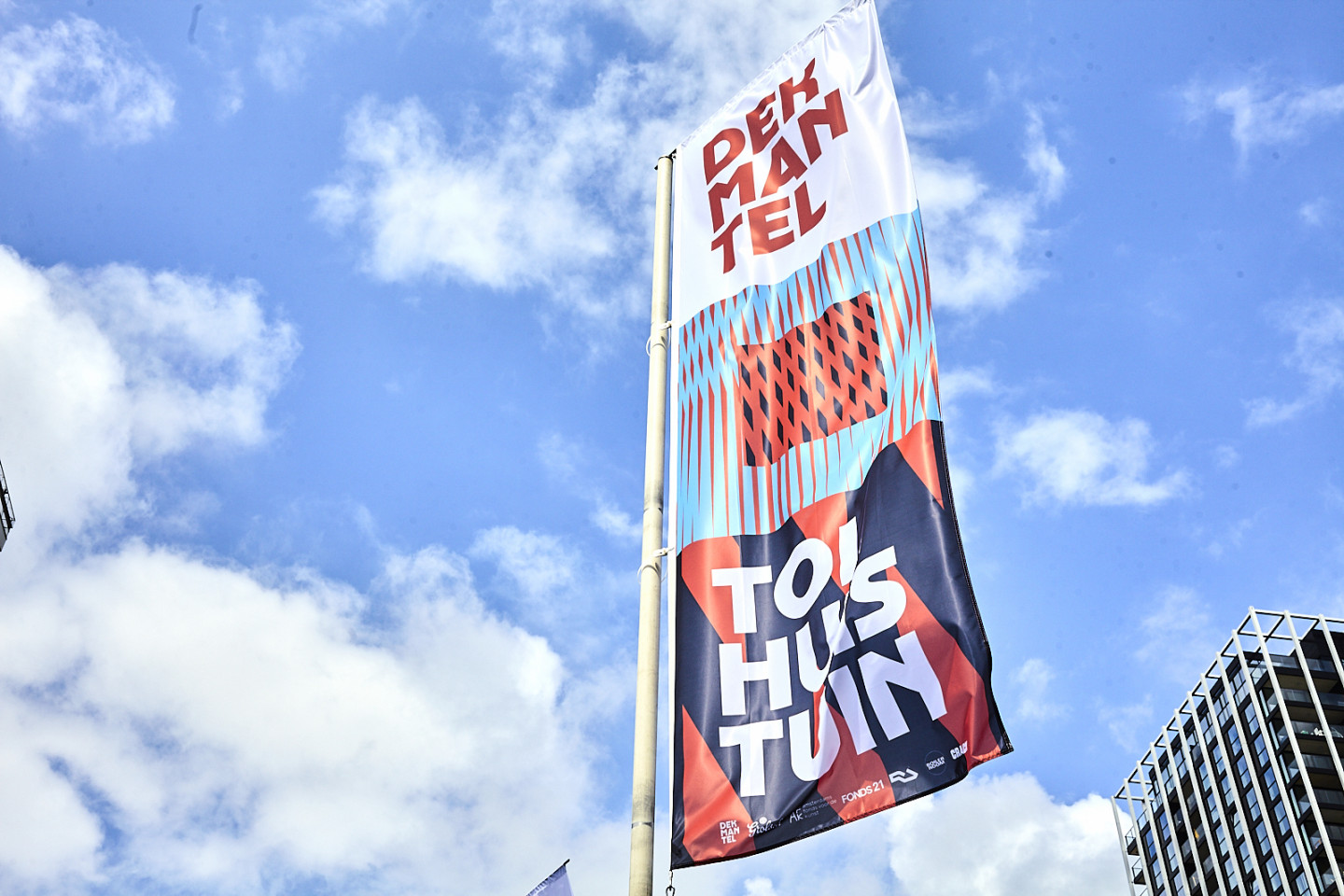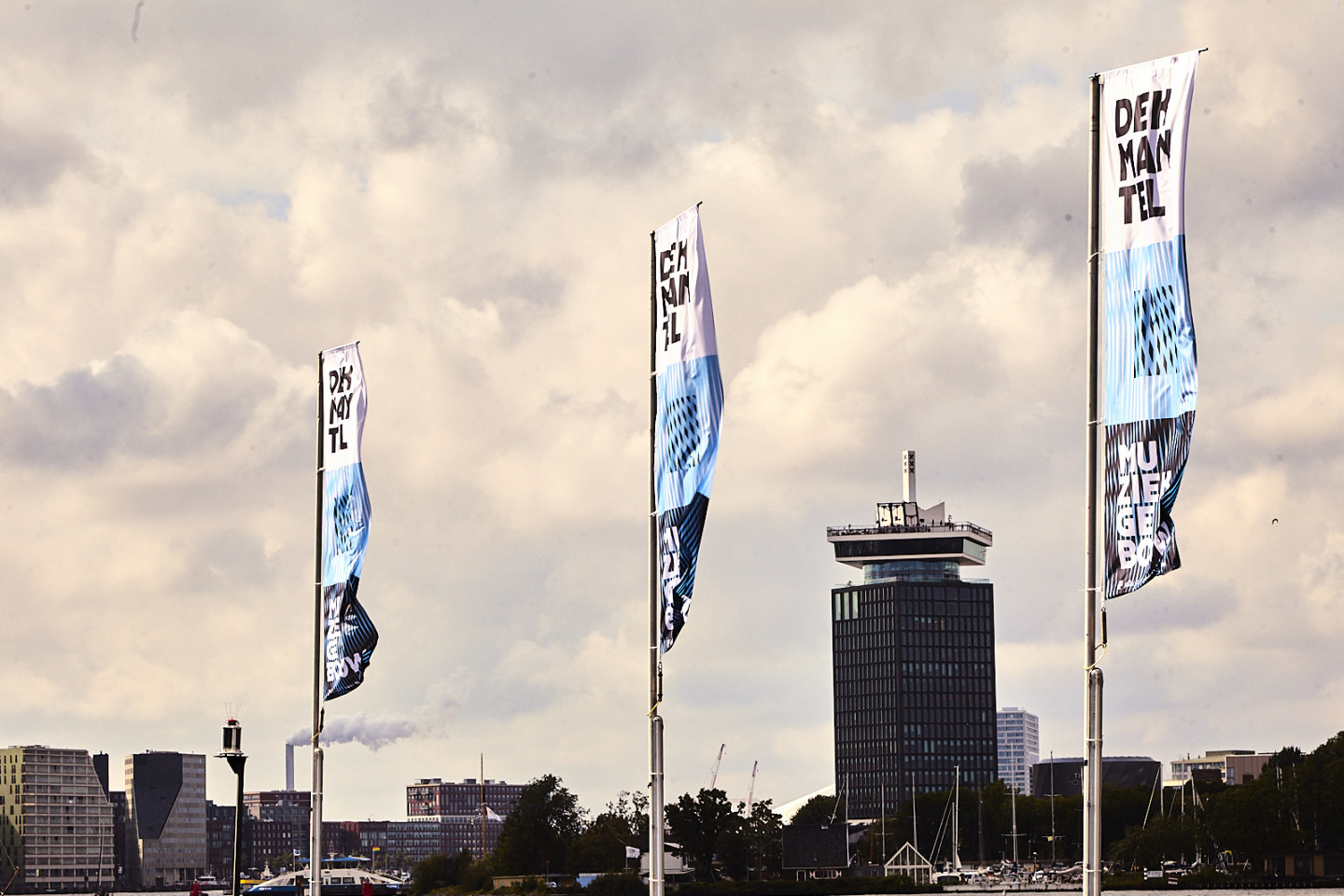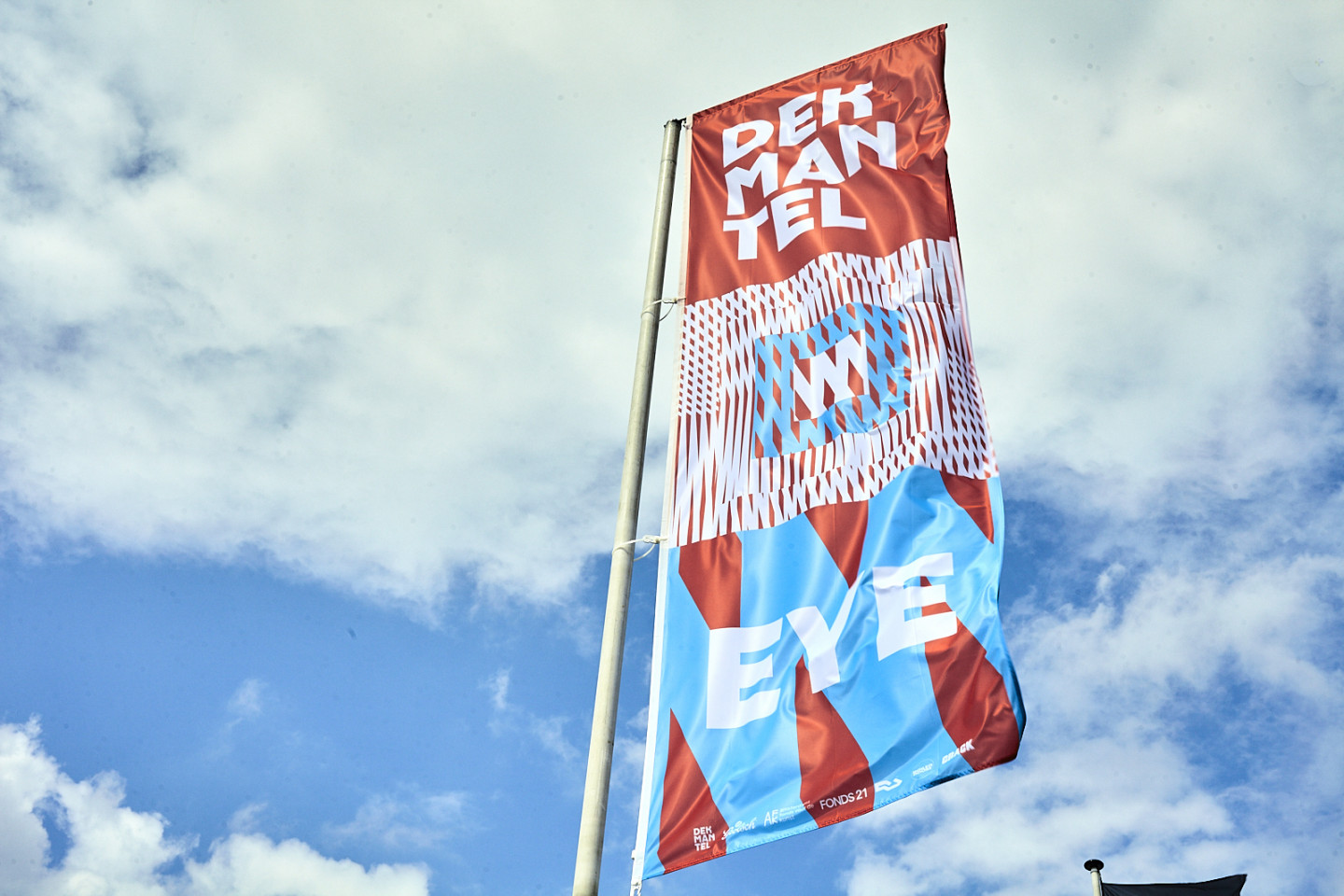 Thursday 1 August - 18:01
The first concerts of today have started
The first concerts of today, featuring Suzanne Ciani at Muziekgebouw and Nadia Struiwigh at Shelter, are starting now. Both composers of mindbending electronic music, the Thursday program of Dekmantel Festival is now on full force.
Thursday 1 August - 17:30
Peaking Lights on new music and De Ambassade
In conversation with Femke Dekker on the Red Light Radio Broadcast, Peaking Lights just pointed out his conversation partner De Ambassade as one of the new bands to watch out for. "I use to have this whole thing where I didn't want to listen to new music. I was totally drenched into old stuff. But actually I think there are a lot of really amazing new bands right now. I love the stuff De Ambassade is doing for example."
De Ambassade just announced their debut album and are playing Tolhuistuin tonight.
Thursday 1 August - 17:26
Wally Badarou on what we get wrong about "world music"
CR: "World music" is an awkward genre tag, but at its core it's about a growing appreciation for music from far-flung places. That's according to Wally Badarou, the legendary session synth player who's talking about "The Scope of Electronic Music" on a Resident Advisor panel with Nosedrip and Deena Abdelwahed. "World music is about realising that music belongs to the world," he says. "There wouldn't be funk, soul or disco without African music. It's part of the world. We are blessed that technology allows all this niche music to be accessed."
Thursday 1 August - 17:17
Now in conversation about The Scope of Electronic Music
Interesting insights are shared as Wally Badarou, Deena Abdelwahed and Nosedrip discuss their perspectives on the scope on electronic music, hosted by Gabriel Szatan.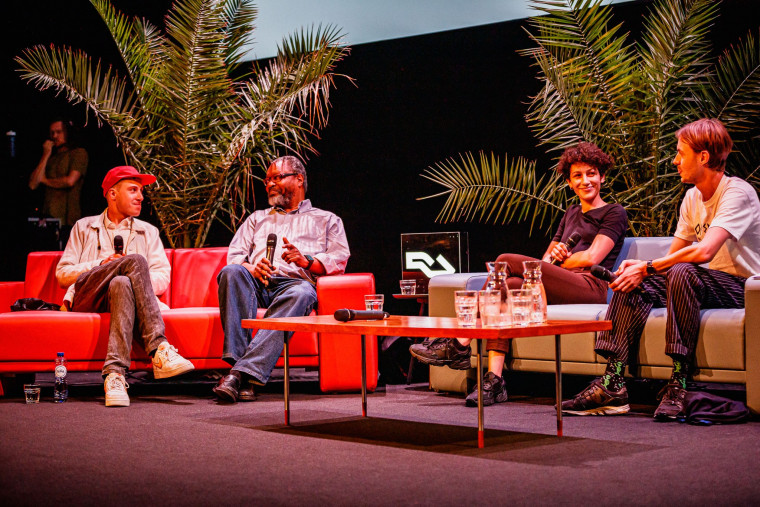 Thursday 1 August - 16:51
Abel Minnée just took over at the RLR x TRIN stream
Thursday 1 August - 16:47
Deena Abdelwahed is currently in the RA panel
Currently in the panel on The Scope of Electronic Music, here's Deena Abdelwahed's recent Khonnar album — a fitting listen in anticipation of her Khonnar performance at Shelter later today.
Thursday 1 August - 16:40
Yet more conversations can be found in the Muziekgebouw foyer
Red Light Radio hosts a rich stream of DJ sets and interviews: here's an highlight from Peaking Lights & De Ambassade.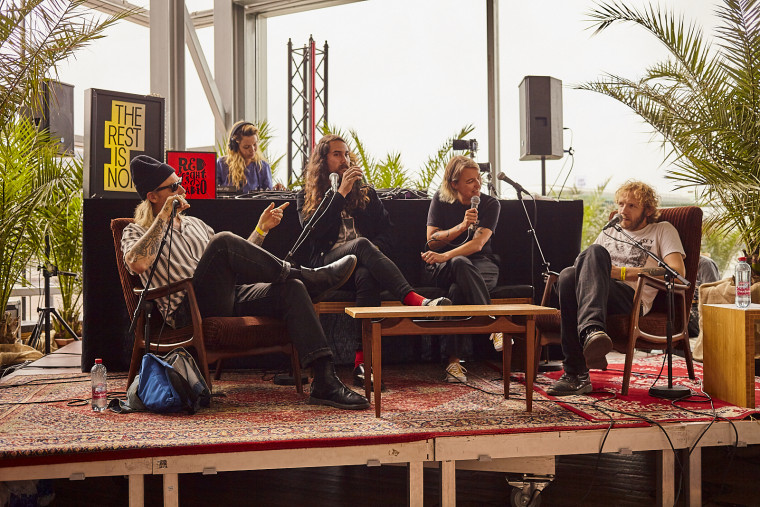 Thursday 1 August - 16:36
Leroy Burgess says there's definitely such thing as too much echo
CR: Disco legend Leroy Burgess stands by his famously sour reaction to that echo-heavy remix of his 1981 track 'I Know You Will': "It was a piece of crap," he laughs. "But everybody makes mistakes!"

His advice for Marquis Hawkes? "Let's go back to the drawing board, turn off the echo machine."

Read his earlier response here.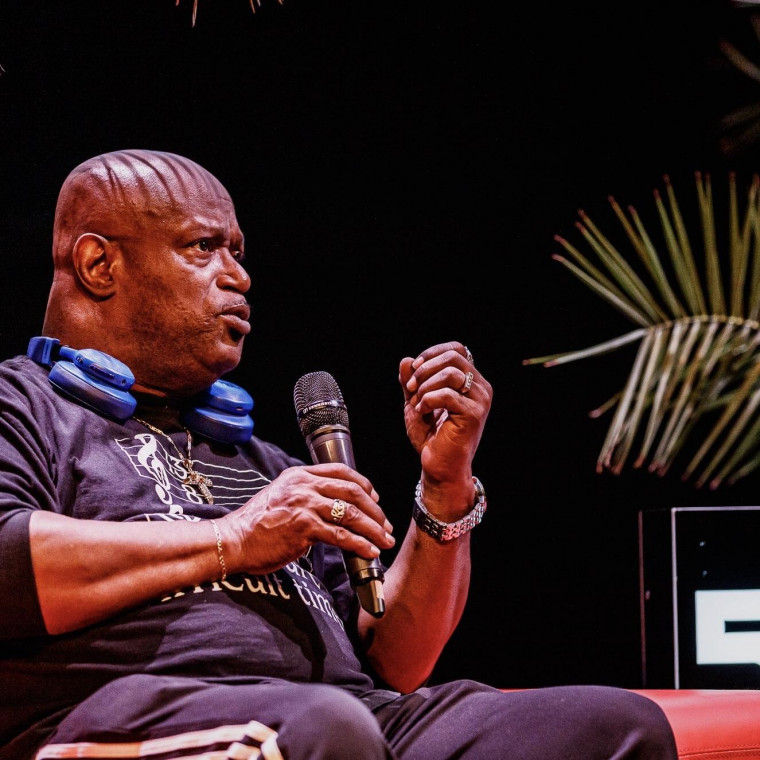 Thursday 1 August - 16:30
Warming up for Caterina Barbieri's performance tonight
Later tonight we'll have Caterina Barbieri performing at Bimhuis. Here's Ecstatic Computation, the album she released in May this year.
Thursday 1 August - 16:09
Nous'Klaer is doing a label showcase later today
Later today, we're having Rotterdam based label Nous'Klaer over for a label showcase, featuring key members Oceanic, Mattheis and Sjoerd Oberman. Here's a bit of insight behind this crew.
Triple trouble from Nous'klaer Audio at Dekmantel Festival this weekend, beginning this afternoon. In five years and change, the Rotterdam label has gone from a glint in founder Sjoerd Oberman's eye to one of those special little imprints who have an outsize impact.
Nous'klaer have gained attention for a consistent run of sumptuous sound design, sharp-elbowed rhythms and a boldness to tread across occasionally contentious grounds of IDM, low-lit trance and even touches of psy-. Vivid releases from Konduku, DB1, Forest Drive West and Tammo Hesselink under numerous aliases now frequently crop up in the hands of big-tier DJs when they need to reach for something deep, weird and stirring to freak out the dancers.
The dreamy tones of Oceanic, also of the Oberman clan, espouses this best of all. He will appear in conversation on Red Light Radio with Sjoerd and Mattheis at 6.30pm, and again live from 10.30 onward as the full label takes over Muziekgebouw's Small Room. And then on Friday, upsammy, breakout star of 2018, graces the Dekmantel Festival Main Stage. Between Andrew Weatherall and Jon Hopkins is where she belongs – and don't bet against more NK'A graduates making the leap next year either.
Thursday 1 August - 15:59
De Ambassade and Peaking Lights are now in conversation
The panel with De Ambassade and Peaking Lights is now off in the foyer of Muziekgebouw aan t IJ. Watch it here.
Thursday 1 August - 15:50
The program in collaboration with RA is in full swing
Panels with artists like Suzanne Ciani and Peaking Lights just ended, up next is a RA Exchange with Leroy Burgess, and later we'll have Deena Abdelwahed, Wally Badarou and others in conversation about the scope of electronic music.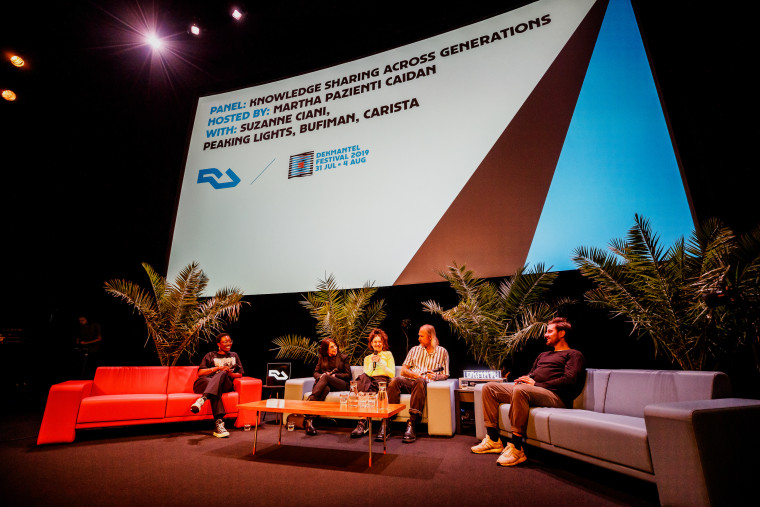 Thursday 1 August - 15:37
Deena Abdelwahed line checking for her Khonnar live set
Thursday 1 August - 15:19
BEA1991 kicking off the RLR x TRIN stream
Thursday 1 August - 14:46
Now streaming: Red Light Radio X The Rest Is Noise program
Over at the Muziekgebouw, the Red Light Radio X The Rest Is Noise program is starting (and streaming!). On the roster for today are an interviews with Sarah Davachi, the Nous'Klaer crew, Nadia Struiwigh, Peaking Lights and De Ambassade, and DJ sets by Abel Minnée, Jamie Bennett, Spacejams and BEA1991 (starting things off now).

Watch the stream here.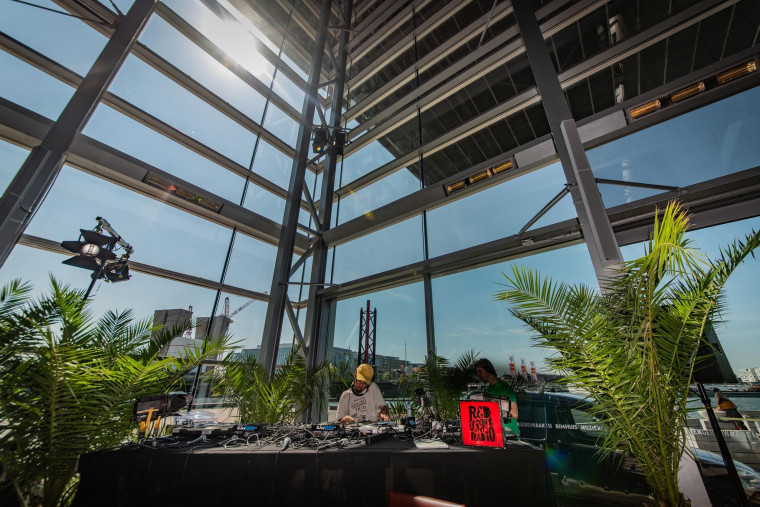 Thursday 1 August - 14:43
Read our earlier Sound and Vision feature
With Suzanne Ciani in the panel right now, and in anticipation of today's concerts by her, Sarah Davachi and Nadia Struiwigh, we recently published a feature on how these three artists have similarities but also distinctly different approaches. From altered states of consciousness, touching cells in the body and getting immersed in space and sound, Suzanne Ciani, Sarah Davachi and Nadia Struiwigh all describe what live music means to them.

Read the full feature here.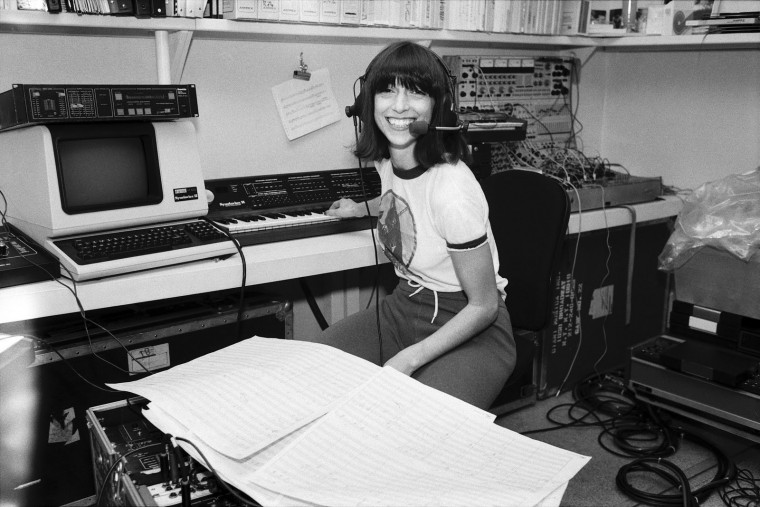 Thursday 1 August - 14:15
Suzanne Ciani explains her undying love of analog in the knowledge sharing panel
CR: "The beauty of analog is it's just that relationship between you and the machine," the Buchla synth maestro is telling the audience at the Eye film museum, where the day's first panel talk is underway. Aaron from San Francisco dub duo Peaking Lights, Bufiman AKA German digger Jan Schulte, and De School resident Carista are all chatting on the topic of "knowledge sharing across generations", and host Martha Pazienti Caidan has asked Suzanne why she loves working with analog technology. "It's empirical, you learn it just by doing it," she continues. "It's not boring. This is an evolutionary learning process that never ends".
We've also learned that both Suzanne and Aaron like to eat dark chocolate before a gig - and no less than 85% cocoa. The artisan's choice!
Thursday 1 August - 13:45
Kicking off our first panel today: Knowledge Sharing Across Generations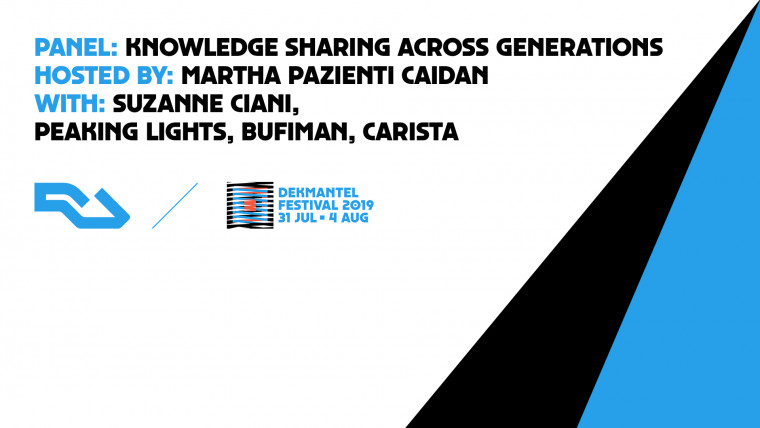 Thursday 1 August - 13:28
Our Resident Advisor panels are coming up
Over at the sleek Eye Filmmuseum building, an afternoon of Resident Advisor hosted panels begins. Over a dozen formidable artists will share insights. The two panels include "Knowledge Sharing Across Generations" and "The Scope of Electronic Music", and we'll have a career-spanning RA: Exchange with Leroy Burgess.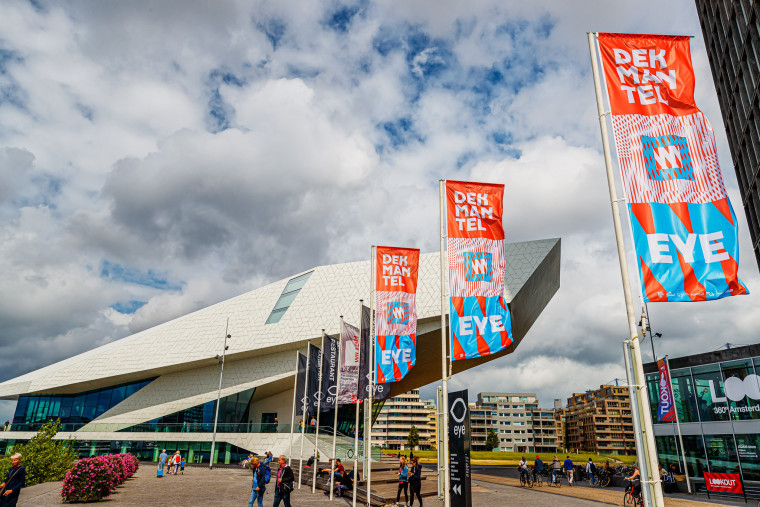 Thursday 1 August - 13:08
We're channeling played tracks on our Spotify
Throughout Dekmantel Festival 2019, we're keeping track of tracks that are played at the festival. A nice soundtrack to get in the mood or to relive some shows, we'll be adding new tracks throughout the week.

Thursday 1 August - 12:56
Looking back at yesterday's opening concerts
Pharoah Sanders Quartet opening Dekmantel Festival 2019, followed by Cybotron's extra-terrestrial journey — a headstart into the week.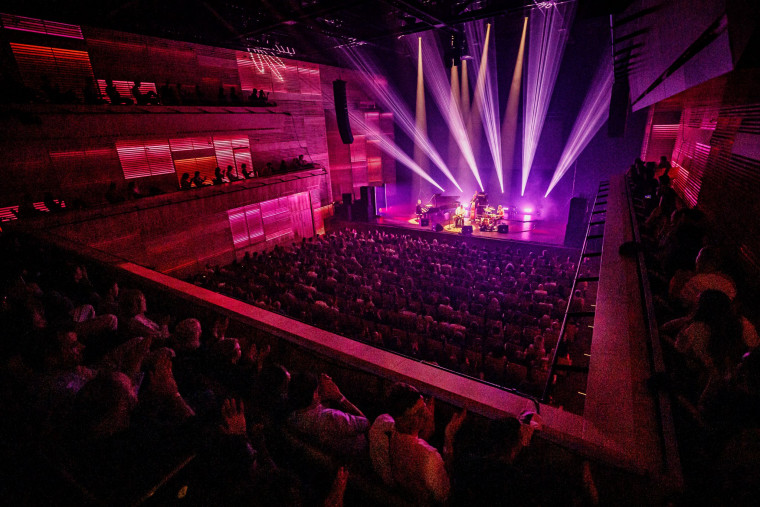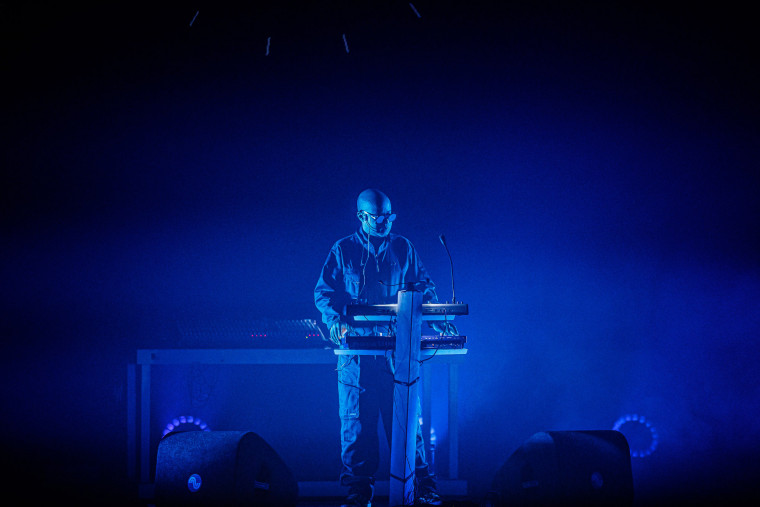 Thursday 1 August - 12:51
Off to day two!
Good morning! We're about to kick off our day two of Dekmantel Festival 2019. Coming up today is perhaps the most diverse part of our program, with concerts, DJ sets, Resident Advisor panels, live-scored films and Red Light Radio shows. Here are some of the things we're looking forward to: Sunn O)))'s force of nature at the Muziekgebouw, Wally Badarou's infective warmth at the Tolhuistuin and Caterina Barbieri's mindbending electronics at Bimhuis.